The reverse engineering creates an elementary CaseTalk model through a simple ADO connection. The tables, columns, key information and relations are all created as facts and are made verbalizeable. This way the database model can be validated as a conceptual model following the regular well formedness rules.
The following diagram is a visualization of a small reverse engineered database model:
---
Once connected to a database, you are able to view and select available tables and columns. Possible issues which may lead to a wrong conceptual model are made visible before the actual import is started. For instance you may choose to rename tables or columns to provide unique fact names for the conceptual model.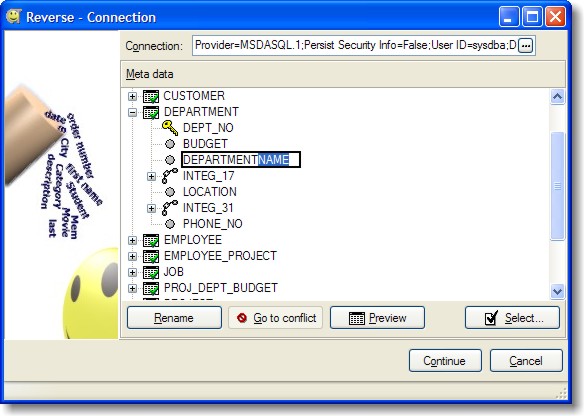 ---
Some advantages are:
Validations can be made using standard FCO-IM ruleset.
Through Expression generation the end-user is now able to validate the implemented database
Conceptuality checking is now possible and the model can be extended with little extra effort.