As enterprises continue to grow, so does the complexity of their data environment, including data terminology both internal and external. Consider a firm that builds computer chips for new devices: Each project may have its own Database System and Data Dictionary. Yet engineers, management, accountants, and customers need to speak the same language to effectively understand one another. A Data or Business Glossary solves this problem by referencing the vocabulary needed to run the company, covering multiple Data Dictionaries and business segments.
What is a Business Glossary?
A Business Glossary defines terms across a business domain, providing an authoritative source for all business operations, including its Database Systems. Although the term "Business Glossary" and "Data Dictionary" may be used interchangeably, they have different meanings. Take the Linked Data Glossary, created by the W3C (World Wide Web Consortium). This Business Glossary helps IT managers, Web developers and the everyday visitor understand "publishing structured data using Linked Data Principles.
Advantages of a Business Glossary
Allows the Business to Own Terms and Meaning
Highlights How Vocabulary may Differ across Business Functions
Ensures more Trust in Data across the Business
Source: Dataversity by Michelle Knight
Fact Oriented Modeling
Using Fact Oriented Modeling and, more specifically, CaseTalk, the users are able to customize their own attribute definitions. This provides administrative functions to add glossary functions and definitions to all information elements. In doing this, the jargon of the domain experts is combined with concrete examples in natural language, scope, ownership, interviewers, departments, status, definitions, descriptions, etc.
Building the business glossary, as well as tying it in with data models derived by CaseTalk is a valuable asset. One can declare various categories of attribute sets, attribute values, and custom annotations.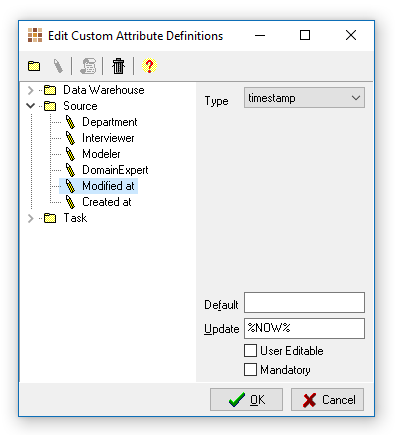 Starting at version 9.6, the business glossary can be exported using a single menu item. It will export all terms, annotations, relations, contexts, and your own defined custom attributes in a convenient single spreadsheet.