Below you'll find the most recent and general news items. If you're keen on staying connected to read more inside developer stories and previews please join the CaseTalk community.
---
October 2018
CaseTalk version 9.4.1 contains a file format upgrade to provide additional identifiers to the model to detect fact type renames. Additionally the merge functionality has been upgraded to support better namespace management across models. Optional roles can be made more distinct in diagrams, and many other usability features and bug fixes. In total 37 tickets have been resolved.
The full list of changes can be found here.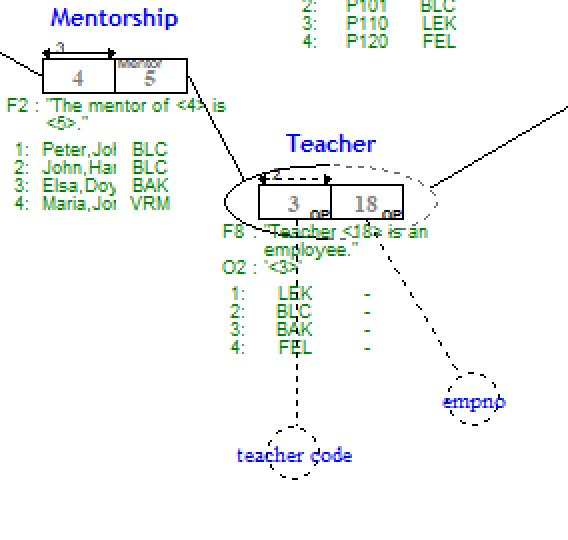 September 2018
The new CaseTalk 9.3.2 fixes some crucial high prioriy issues, and adds an improved snapshot comparison user interface. The collapse and expand function make the difference report more consise, and this is also implemented in the text editor for expressions. The changelog is here.
Additionally a high priority issue was fixed in 9.3.3.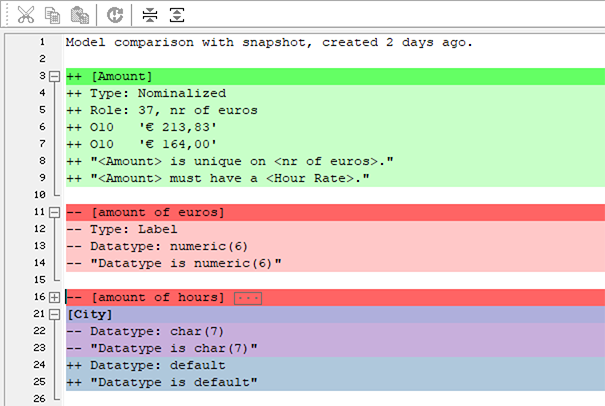 September 2018
The new CaseTalk 9.3 adds a support for mapping unknown datatypes and updates the support for the new JSON Schema Generator. The CaseTalk Expression Generator has improved to render a text file containing all information for a Business Glossary.
For high level diagrams, aka Concept Maps, the Viewer 4.0 has a new diagram tab. It contains an auto layout engine for arranging the concepts.
Concept Map Diagram
New DataType support
Generate Business Glossary
Minor user interface fixes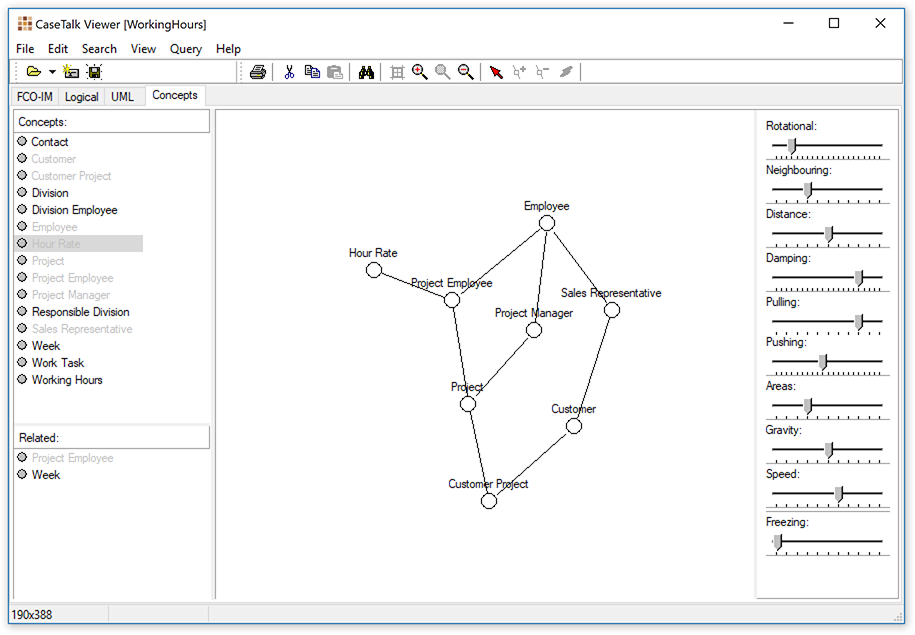 August 2018
The new CaseTalk 9.2 adds a brand new JSON Schema Generator and some improvements. The JSON Schema Generator is not to be confused the the already exported JSON Table Schema. The latter contains a description similar to a relational model, whereas the former contains regular object definitions like UML Classes. Please get your free update from our download section.
Added the JSON Schema generator
Improved UML and OWL export
Model validation enhancement
Minor user interface fixes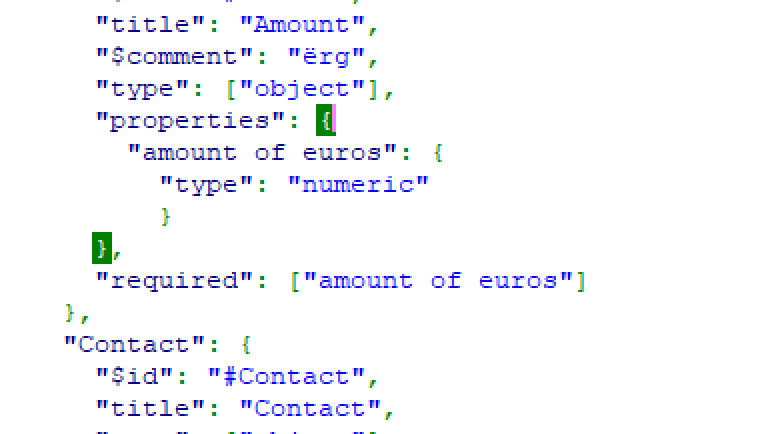 July 2018
CaseTalk Modeler 9.1 and Manager 5.1 are released as an improvement for the previous full version, and adds some amazing new features. We invite you to download your update today.
Database script enhancements
Improved DBA support by layering scripts
Views for verbalized production data
New generators
MySQL v8 including Views
Teradata
MongoDB
Regional setting
Diagram optimization
Strong data type validation
The Manager contains a new preview function for diagrams and files, hardens the upload functionality, and contains massive performance improvements on the brand new dependency graphs.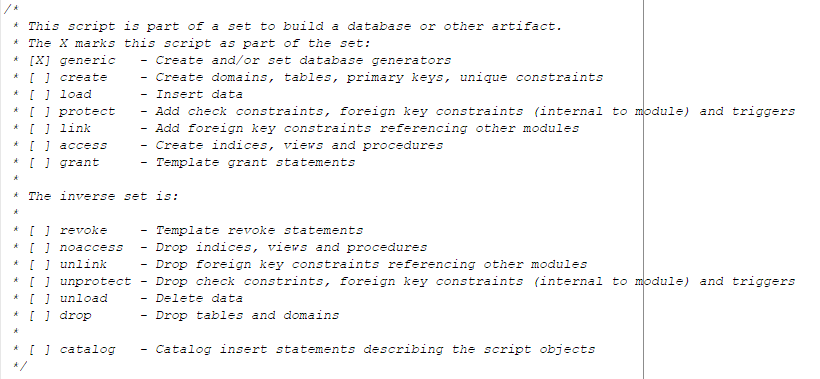 July 2018
With the recent rush for GDPR compliance, we wanted to show you how simple the extension of new data model requirements can be in CaseTalk. It's a simple two step procedure to mark all elements sensitive to privacy violations as such. But first of all, the GDPR definition:
The General Data Protection Regulation (GDPR) (EU) 2016/679 is a regulation in EU law on data protection and privacy for all individuals within the European Union (EU) and the European Economic Area (EEA). It also addresses the export of personal data outside the EU and EEA areas. The GDPR aims primarily to give control to citizens and residents over their personal data and to simplify the regulatory environment for international business by unifying the regulation within the EU.

Superseding the Data Protection Directive 95/46/EC, the regulation contains provisions and requirements pertaining to the processing of personally identifiable information of individuals (formally called data subjects in the GDPR) inside the European Union, and applies to all enterprises, regardless of location, that are doing business with the European Economic Area. Business processes that handle personal data must be built with data protection by design and by default, ... [source: wikipedia]
Jun 2018
[DUTCH]
Op dinsdag 26 juni zal een middag worden gehouden over het gebruik van feit georiënteerde modelleringsaanpak (FCO-IM) in de praktijk. Als oud deelnemer aan de training "Hands on Fact Oriented Modeling", belooft dit een interessante middag voor u te worden.
Op deze middag kunt u onderling ervaringen uitwisselen, vragen stellen en zal een aantal presentaties ingaan op de toepassing van feit georiënteerde modellering in de praktijk.
Registreer bij MeetUp.com
Jun 2018
[DUTCH]
De volgende Full Scale Data Architect ontmoeting zal plaatsvinden in Utrecht. Ron Nagtegaal zal aldaar de architectuur van ProRail presenteren. ProRail gebruikt al jaren de feitgebaseerde aanpak en het gereedschap CaseTalk. Ron Nagtegaal is de lead Data Architect en werkt al meer dan 10 jaar aan de architectuur en zal een proof of concept presenteren. Deze casus toont hoe de data architectuur de diverse taaldomeinen binnen ProRail integreert en ingezet kan worden om op een uniforme wijze diverse systemen te integreren. Het stelt de organisatie in staat om op te stijgen uit de welbekende landschap van software silos.
Ron presenteert de architectuur en zijn ideëen over model management en de uitdagende werkomgeving waarin gepoogd wordt te werken met het concept "model once, develop anywhere". Hij zal samen met Marco Wobben ook spreken over hoe architectuur met multi-user, multi-model, multi-version te hanteren. Er zal ruimte zijn voor vraag en antwoord aangaande de architectuur en het spanningsveld tussen backlog, werkafspraken en toolsupport.
Meetup registration is no longer possible, but the slides are here.